Die phantastische Welt des Wilfried Maria Blum - The Surreal Worlds Of Wilfried Maria Blum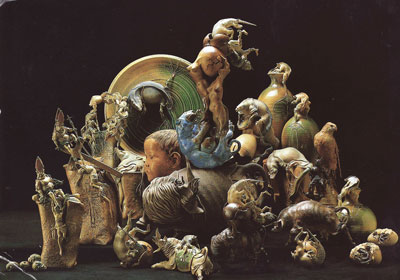 Sein Leben steht im Einklang mit der Natur. In seinem liebevoll angelegten Naturgarten leben Pferde, Falken, kleine Echsen und Insekten in paradiesischer Harmonie mit unzähligen Pflanzenarten. Inmitten diesem Kleinod stehen das Haus und seine Werkstatt, durchdrungen von phantastischen Keramiken und Bronzearbeiten.
He lives a life in accordance with nature. In his lovingly designed natural garden you can find horses, falcons, small lizards and insects living in a paradise-like harmony with a huge variety of plants. In the centre of this gem are his house and his workshop, full of surrealist ceramics and bronze works.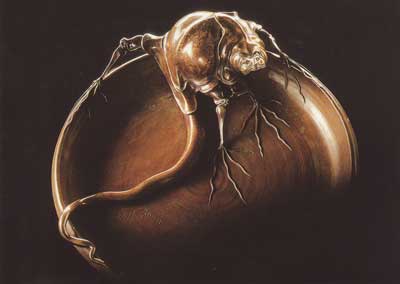 Echsenschale, Durchmesser 37 cm / Lizard pot, diameter 37 cm.
Alles scheint wie aus einer anderen Welt, und ist doch so nah, dass es Herz und Seele berührt, und das Gehen durch seinen Garten ist wie eine Verzauberung in einem "Secret Garden". Everything seems to come from another world, and yet it is so close that it touches your heart and your soul, and walking through this garden is like the enchantment of a "Secret Garden".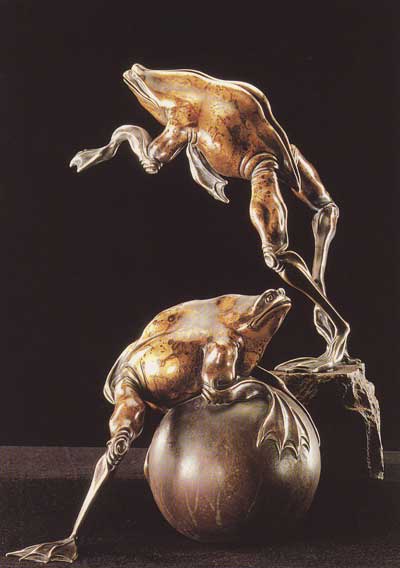 Froschstudien  / Frog studies
Unter manchem Busch oder geheimer Teichbuchtung schauen Wesen hervor, die so lebendig sind, dass man niemals an Keramiken denken würde. Der Wunsch, sie ganz vorsichtig zu fangen, um mit ihnen zu kommunizieren, und sie dann wieder sachte zurückzusetzen, keimt auf 
Das Repertoire seiner Keramiken und Bronzeobjekten ist groß, von Porträtarbeiten, zeitkritischen Stücken, von surrealistischen Echsen und Einhörnern bis hin zu japanischen Netsuke und Oni.
From beneath many a bush or a hidden pond, there are beings peering at you that are so alive that you'd never imagine they are made of ceramics. You can see yourself trying to them carefully to communicate with them and then putting them back very softly. His repertoire of ceramics and bronze objects is huge, ranging from portrait work, satirical pieces, surrealist lizards and squirrels to Japanese Netsuke and Oni.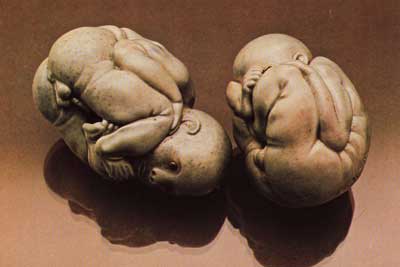 Netsuke Objekt - Thema: Embryo
Glasuren: Asche, Engobe, Oxyde
Größe: 3,5 cm
W.M.Blum verwendet für seine Keramiken einen eigens von ihm aufbereiteten "Feinsteinzeugton" und grob schamottierten Ton. Gebrannt werden die Stücke im Elektro-Ofen oder im selbstgebauten Holzofen, reduzierend bei ca. 1280 Grad C. Alle Glasuren wurden eigens von ihm entwickelt und sind einzigartig. Die einzelnen Werke, selbst die kompliziertesten, werden in einem einzigen Brennvorgang und als Ganzes gebrannt.
Vier große Auszeichnungen ehren sein Werk:
1981   Richard Bampi-Preis, 1. Preis, Osnabrück 
1989 4Th Annual International Exhibition  Toronto, Ehrenpreis
1990  "Posasne diplome", Zagreb
1994  Verleihung des Rheinischen Kunstpreises, 1. Preis
Über 150 Ausstellungen in verschiedenen Kontinenten (z.B. in Japan eine Wanderausstellung von Tokio über Arita, Hagi, Seto, Shigaraki bis Saporo) haben ihn zu einem der begehrtesten Keramikkünstler unserer Zeit werden lassen, weltweit.  
Netsuke objects - Topic: Embryo
Glazes: Ash, engobe, oxide
Size: 3,5 cm
W. M. Blum uses a specially prepared vitreous stoneware clay and grogs for his ceramics. The pices are fired in an electric kiln or a self-made wood fired kiln, reducing at around 1280°C. All glazes have been developed by himself and are unique. All works, even the most complicated ones, are fired as entire pieces in a single firing.
His works won several important awards:
1981   Richard Bampi Award, 1. prize, Osnabrück 
1989   4Th Annual International Exhibition  Toronto, Award of honour
1990   "Posasne diplome", Zagreb
1994   "Rheinischer Kunstpreis", 1. prize
Over 150 exhibitions in several continents (e.g. a travelling exhibition in Japan covering Tokyo, Arita, Hagi, Seto, Shigaraki and Saporo) have made him one of the most sought-after ceramic artists of our time.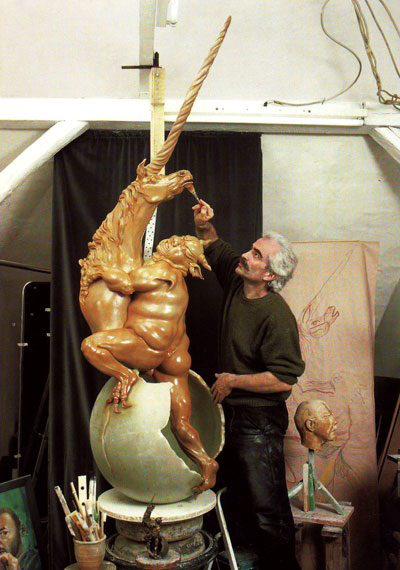 Das Foto zeigt Wilfried Maria Blum bei der Modellarbeit für einen Bronzeguss. Höhe 220 cm.
A photograph of Wilfried Maria Blum during the modelling work for a cast-bronze. Height 220 cm.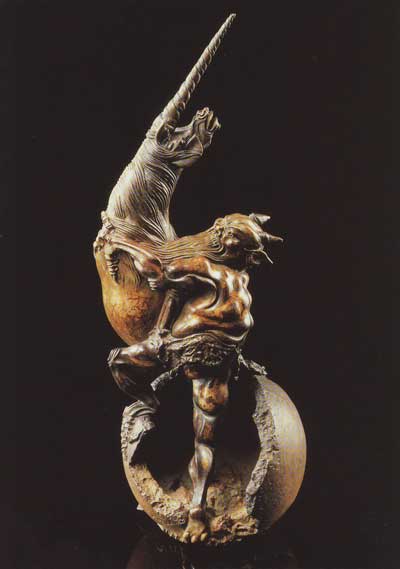 Das gleiche Motiv, Thema: "Geburt der Gegensätzlichkeit", in Miniaturgröße von 24 cm, Bronze.
The same subject: "Birth Of Opposites", as a miniature of 24 cm, bronze.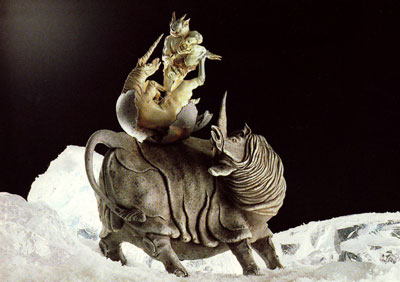 Thema: Kampf der Gegensätzlichkeit.
Glasuren: Asche, Engoben, Oxyde.
Größe: 40 cm.
Subject: "Fight Of Opposites".
Glaze: Ash, engobe, oxide.
Size: 40 cm.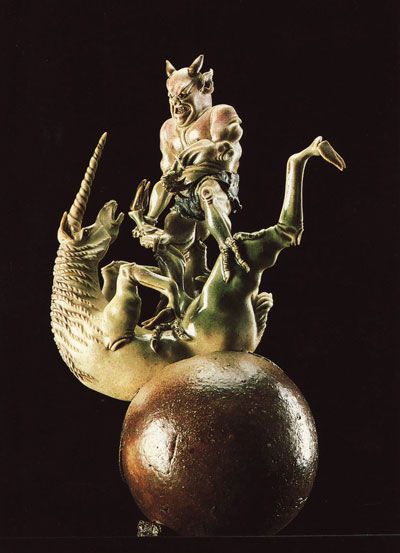 Thema: Yin und Yang
Steinzeug, 1992, Höhe 22 cm.
W.M.Blums Hang  für japanische Mythologiewesen ist unverkennbar. Die Fotos auf dieser Seite können nur einen kleinen Ausschnitt seines Schaffens zeigen. Mich berühren seine ausdrucksstarken Oni ganz besonders.
Subject: Yin and Yang
Stone ware, 1992, height 22 cm.
W. M. Blum's fondness of the Japanese mythology is obvious. The photographs on this page can only show a small part of his works. What touches me most are his expressive Oni.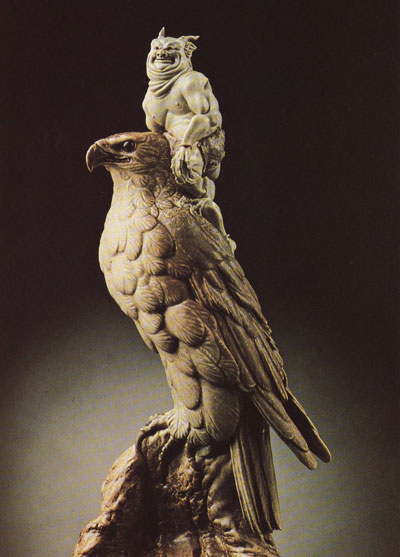 Oni sind Wesen aus der japanischen Mythologie. Sie werden oft mit scharfen Klauen, wilden Haaren und zwei Hörnern auf dem Kopf dargestellt (ähnlich unserem Teufel).
Oni are beings from the Japanese mythology. They are often shown with sharp claws, wild hair and two horns on their head (similar to our devils).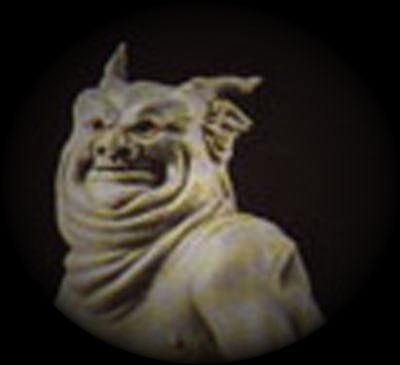 In alten Geschichten und Legenden wurden Oni noch als gutmütige Wesen und Wächter der Hölle dargestellt. Einige Dörfer in Japan halten auch heute noch alljährlich Zeremonien ab, um Oni zu verscheuchen. Die Leute werfen Sojabohnen aus den Häusern, und rufen "Oni wa soto! Fuku wa uchi! (Dämon heraus, Glück herein!), um den unsichtbaren Geist zu vertreiben, der sein böses Spiel und Schabernack mit ihnen treiben will.
In old stories and legends, Oni were shown as benign beings and guardians of hell. In some villages in Japan, ceremonies are still performed to scare off the Oni. People would throw out soy beans at the entrance, and call: "Oni wa soto! Fuku wa uchi!" (Out with the daemons! Good luck, come in!), to expel the invisible daemon and prevent him from playing his mischievous tricks on them.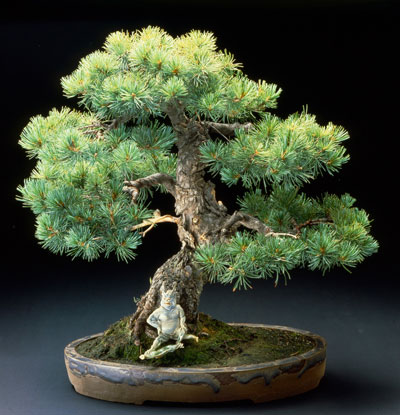 Nur für uns Bonsaijaner sichtbar hat W.M. Blum einen kleinen Bonsai-Oni auf einer Sojabohne sitzend erschaffen. 
W. M. Blum created this small Oni sitting on a soy bean, only visible for us bonsaists.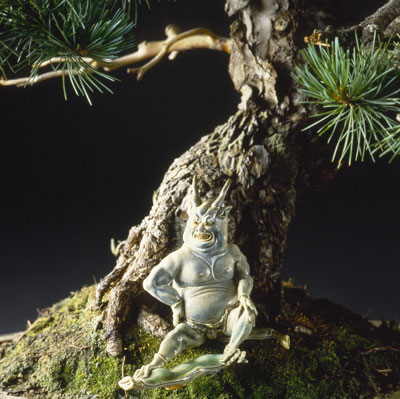 Fremde sollten sich hüten dem Baum zu nahe zu kommen.
Strangers should beware and not approach this tree!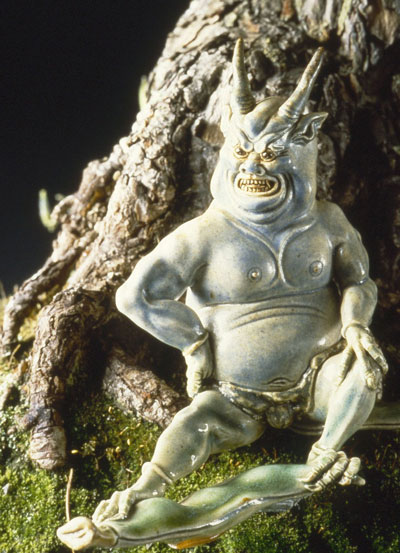 Sehen Sie sich doch nur diesen "Kerl" an, Schabernack ist vorprogrammiert.
Just look at this little fellow, what a a sly old dog he is!
Peter Krebs
Alle Fotos von Wilfried Maria Blum.
Adresse:  53809  Ruppichteroth, Huppach 16, Tel:  02295/1686 
Peter Krebs
All photographs by Wilfried Maria Blum.
Address:  53809  Ruppichteroth, Huppach 16, phone:  +49 2295 1686
Translation: Stefan Ulrich