Miniporzellan 3 / Mini Porcelain 3

Vorm Sonnenrade
Dort fliegt ein Edelstein:
Der Regenpfeifer
Bosha
Wie Edelsteine an einer Schnur reihen sich die Bilder dieser wunderschönen Schalen (mit und ohne Shohin) aneinander.
In eine gute Bonsai-Schalensammlung gehören neben Keramikschalen auch immer einige Exemplare aus Porzellan. Das Wort Porzellan hat in China seltsamerweise eine andere Bedeutung als in Europa. Für Chinesen sind alle Keramiken, die beim Anschlagen einen reinen und hohen Ton erklingen lassen, Porzellan. In Europa zählt nur jene Keramik zu Porzellan, die zum einen wie in China einen reinen und hohen Ton erklingen lassen und zudem auch noch durchlässig, weiß, rein und durchscheinend sein müssen. Porzellan ist eine keramische Masse, die aus Kaolin, Feldspat und Quarz besteht und bei Temperaturen zwischen 1300° und 1500° Grad C glasartig ausbrennt. In Bezug auf die voran gezeigten Artikel  " Miniporzellan" möchte ich Ihnen auch hier wieder einige Minischalen vorstellen. Ich habe den Versuch unternommen die kleinsten in der Schalenfamilie ein wenig zu sortieren, - und hier nun die ganz lebensfrohen, die farbigen, die Edelsteine.
Against the sun wheel
a flying jewel
the plover.
Bosha
Like jewels on a string, the pictures of these beautiful pots (with and without shohin) are threaded together. A good bonsai pot collection should always contain, along with ceramic pots, a few pots made of porcelain. Strangely, the word porcelain has a slightly different meaning in China: There all kinds of ceramics that have a clear and high ring when struck are called porcelain. In Europe, only the ceramics that - besides having this clear and high ring - also are translucent, clear and white are called porcelain. Porcelain is a ceramic substance that is made of kaolin, feldspar and quartz and that burns to a glassy body between 1300° and 1500° C. Like in the previous articles on "Mini Porcelain" I'd like to show you again some mini pots. I tried to bring them into some order - let's start with the lively ones, the colored ones, the jewels.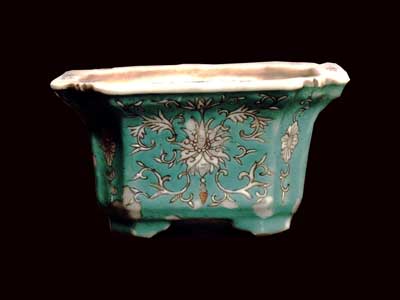 Cinesische Schale ca. 80 Jahre alt / Chinese Pot, about 80 years old
Das Dekor dieser Schalen wurde im Aufglasurbrandverfahren hergestellt. Aufglasuren gab es im Gegensatz zu Unterglasuren in einer sehr reichhaltigen Farbpalette. Aus diesem Grund konnten Schalen mit Aufglasuren sehr farbenfroh ausgemalt werden. Nach dem Aufmalen der Glasur wurden diese Schalen in einem zweiten Brand bei ca. 850° Grad ausgebrannt.
Die kleine Porzellanschale besticht durch ein überschwenglisches florales Muster. Die dicke türkisfarbene Aufglasur wurde unter Aussparung von Blumen und Ranken flächendeckend aufgetragen. Das nun weiß hervortretende Muster ist die eigentliche Grundfarbe des Porzellans.
The decor of these pots was created by onglaze firing. In contrast to underglazes, these onglazes gave a very rich color palette, so these pots could be painted very colorfully. After painting with the glaze, the pots were fired a second time to about 850°C. This little porcelain pot impresses with an exuberant floral pattern. The thick turquoise glaze was applied to the entire pot, but sparing the flowers and twines; the resulting white pattern is the color of the porcelain body.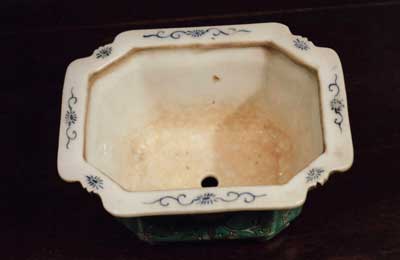 Auch der obere Rand wurde aufwendig ausgearbeitet und bemalt.
The upper rim, too, is lavishly sculptured and painted.
Und hier wieder zum Vergleich im japanischen Malstil Edelsteine vom Feinsten. Es handelt sich hierbei um sehr verschiedene  Maltechniken. Was sie miteinander verbindet sind die große Farbenvielfalt, die Lebendigkeit und letztendlich die Freude am Leben.
Bilder für den Kunstgenuß.
And here again, in comparison, jewels in the Japanese style of painting. There are various techniques of painting shown here. What they have in common are the great range of colors, the liveliness and finally the vitality of the paintings.
Pictures for your enjoyment of art.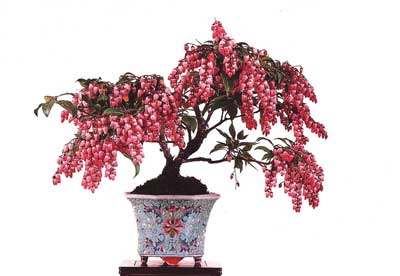 Japanische Lavendelheide, Pieris japonica,  Höhe: 16 cm
Pieris japonica,  Height: 16 cm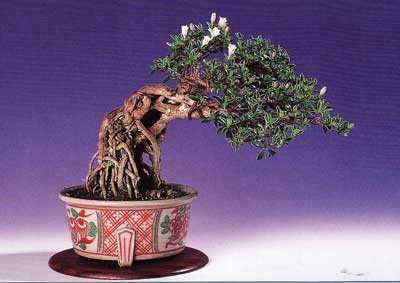 Japanische Serissa, Serissa japonica,  Breite: 19 cm 
Japanische Serissa, Serissa japonica,  Width: 19 cm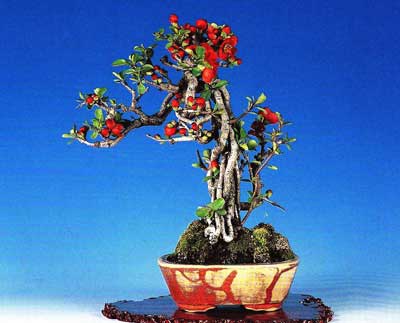 Scheinquitte, Chaenomeles japonica, Chojubai  Höhe: 21,5 cm
Japanese flowering quince, Chaenomeles japonica, Chojubai  Height: 21,5 cm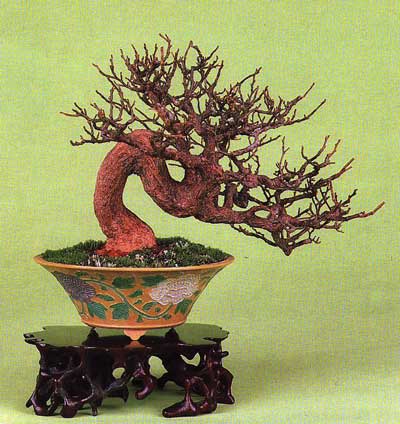 Storaxbaum, Styrax japonica,  Höhe: 13 cm
Styrax japonica,  Height: 13 cm
Das florale Muster tritt fast plastisch hervor.
The floral pattern almost has a three-dimensional effect
 Sternjasmin, Trachelospermum jasminoides,  Höhe: 20 cm - Besitzer Akira Yokuyama
Star jasmine, Trachelospermum jasminoides,  Height: 20 cm - Owner: Akira Yokuyama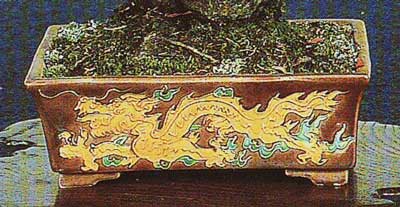 Drache in typischem japanischen Malstil.
A dragon in the typical Japanese style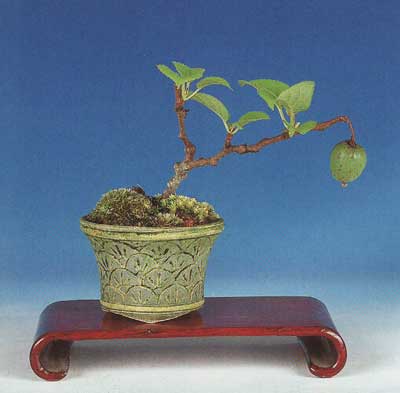 Scharfzähniger Strahlengriffel, Actinidia arguta, Länge: 9 cm - Besitzer Shinichi Yoshida
Actinidia arguta, Width: 9 cm - Owner: Shinichi Yoshida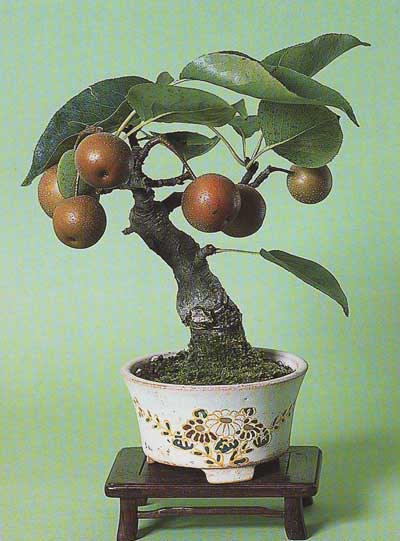 China Birne, Pyrus pyrifolia, Höhe: 12 cm
Chinese pear, Pyrus pyrifolia, Height: 12 cm
 Peter Krebs.
Bildquelle:
Bild Nr. 1 und 2 Peter Krebs und Bernd Braun 
Bild Nr. 3,4,5,6,7,8,9,10,11 wurden freundlicherweise von BONSAI ART zur Verfügung gestellt.
Image sources:
Images 1, 2: Peter Krebs und Bernd Braun
Images 3-11 kindly provided by BONSAI ART.
Translation: Stefan Ulrich