Makuzu Kozan

Schalen des berühmten Meisters / Pots by the famous master Makuzu Kozan (Japan)

Der erste unter dem Namen "Kozan" bekannte Keramiker lebte von 1842 bis 1916. Seine Schaffenszeit hatte er also in der Meiji-Periode. Sein Sohn lebte bis 1940. Makuzu Kozan begründete den ausgezeichneten Ruf der Kozan-Keramik. Sein Sohn wird der "zweite Kozan" genannt. Wir können heute nicht mehr eindeutig unterscheiden, welche der Schalen vom Vater und welche vom Sohn angefertigt wurden. Auf deren Wert hat dies aber keinen Einfluss.
The first ceramist who was known under the name 'Kozan' lived from 1842 – 1916. His working years were in the Meiji-period. His son lived until 1940. Makuzu Kozan established the excellent reputation of Kozan ceramics. The son is called 'the second generation Kozan'. Today it is not possible to distinguish which pots were made by the father or the son. This has no influence on the value of the pots.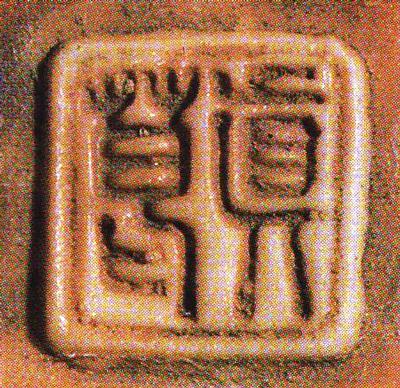 Siegel des Meisters / Chopmark of master Makuzu Kozan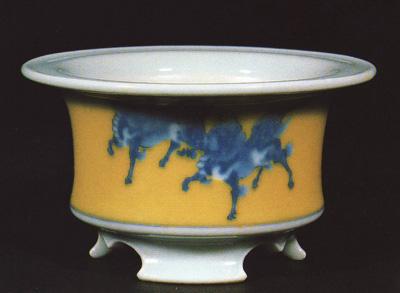 Runde Porzellanschale mit gelber Glasur, Maße: 9,5 cm x 5 cm. Aktuell geschätzter Wert: vier Millionen Yen.
Round porcelain pot with yellow glaze, measurements: 9,5 cm x 5 cm. Currently estimated value: four million Yen.
Diese Schale wurde 1938 von Makuzus Sohn, dem "zweiten Kozan" gefertigt. Es ist die beste Schale dieses Künstlers und gilt als die beste kleine Bonsaischale überhaupt.
This pot was made in 1938 by Makuzu's son, 'the second generation Kozan'. It is the best pot of this potter and is regarded as the best small bonsai pot ever.

Ein Paar ovaler Porzellanschalen, Dekor "Wolken und Drache", Maße: 17,3 cm x 10,8 cm x 5 cm.
A pair of oval porcelain pots, painted with 'Clouds and Dragon', measurements: 17,3 cm x 10,8 cm x 5 cm.

Schalen aus weißem Porzellan mit Wolken und Drachen-Dekor von Makuzu Kozan. Vermutlich das beste Schalenpaar. Der Wert könnte sich auf sieben bis acht Millionen Yen belaufen, ist aber eigentlich unschätzbar.

Pots made from white porcelain with a clouds and dragon motif by Makuzu Kozan. This is propably the best pair of pots. The value might be about seven to eight million Yen, but in reality it is priceless.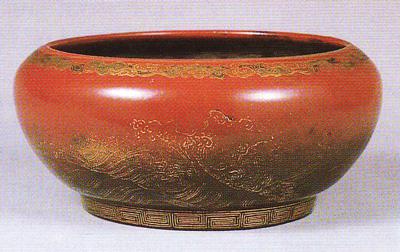 Runde Schale mit Zeichnung von Wellen aus goldfarbener Engobe mit roter Glasur. Name: "Kyokuha" (Wellen im Licht der aufgehenden Sonne), Maße: 17 cm x 8 cm.
Diese Schale wurde von Makuzu Kozan zusammen mit Yoshimaza Ono hergestellt. Der geschätzte Wert beläuft sich auf vier Millionen Yen.

Round pot with waves painted with golden engobe on a red glaze. Title: 'Kyokuha' (waves in the light of the rising sun), measurements: 17 cm x 8 cm. This pot was made by Makuzu Kozan in collaboration with Yoshimaza Ono. The estimated value is about four million Yen.

Zu Zeiten des wirtschaftlichen Booms wurde diese Schale auf fast zehn Millionen Yen geschätzt, die aktuelle Bewertung von vier Millionen scheint nicht ganz so übertrieben.
At times of the economic boom this pot was evaluated to be worth nearly ten million Yen, so the current evaluation of four million should not be exaggerated.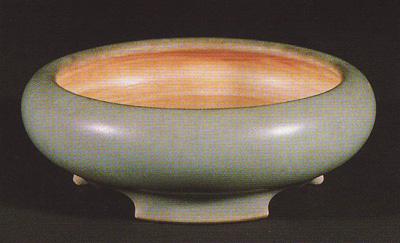 Runde Makuzu-Kozan-Schale mit graublauer Glasur, Maße: 11 cm x 4 cm.
Round Makuzu Kozan pot with a bluish grey glaze, measurements: 11 cm x 4 cm.

Die auf dieser Seite abgebildeten Schalen sind die besten des Künstlers. Es gibt aber auch andere Schalen, die, wie diese hier, einen wesentlich geringeren Wert haben (ca. achthunderttausend Yen). Da überhaupt nur wenige Schalen dieses Künstlers auf dem Markt auftauchen, kann man sich glücklich schätzen, wenn eine angeboten wird.
The pots shown in this article are the best of the artist. There are more pots like this one which are much less expensive (around 800.000 Yen). As only very few pots of this artist are for sale you should be glad if one is offered to you.

Artikel und Fotos wurden freundlicherweise vonBONSAI ARTzur Verfügung gestellt.

Article and photographs were kindly provided by BONSAI ART.
Translation: Heike van Gunst